Feature List
VRUE360 is a solution that provides producing 360° videos with best quality over the world,
and live streaming.
Camera Capture Card
Supports Decklink / Magewell Capture Card
Input formats
HDMI (supported cards detailed below)
SDI (supported cards detailed below)
Various input
You can choose any types of rigs and cameras without limitation. (If overlapping areas between images meet certain level.)
Auto Crop
We analyze the input images and suggests the video feed area suitable for the type of lens.
Audio support & sync
Supports variable audio channels. You can set the delay of audio in case the sound and video sync do not match.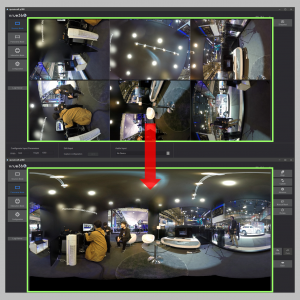 Automatic Stitching Template
You can produce stitching templates automatically, without any additional templates and external programs. High-speed processing time and sufficient accuracy are guaranteed.
Regional Warping
Local non-matching problem has always been the prime issue of every 360° stitching process. We provide custom area warping to reach better quality stitching.
Channel selection Calibration
You can choose to update the stitching template with only certain channels. You can manually assign some parts from the overlapping area as a masking area.
ROI Weighted Calibration
By setting the ROI you want, you can improve the match success rate of the features in the ROI.
Mutiband Blending
With multiband blending technique, multi-dimensional blending is applied for smoother stitch result between camera images.
Rotate & straighten
Supports free rotation & translation of 360° video. Automatic horizontal aligning is also provided.
Exposure compensation
Exposure tends to vary especially in 360° images. We calculate the distance of brightness of the overlapping area to compensate the whole exposure automatically.
Instead of a simple brightness compensation, multi-dimensional curved compensation is applied to provide free color adjustment while preserving details.
Live Preview
You can view & edit images in either Panoramic or Interactive mode as you wish, with our Preview screen.
Live Stream
VRUE 360 allows video to be streamed directly to the media server when using RTMP, RTSP broadcasting. Output 360 videos can reach up to 60 FPS with 4K, and 30 FPS with 8K.
Storage
360° videos can be stored into HDD for later usage, like editing or sharing with other programs. Live Streaming and storing into HDD can be done simultaneously.
External Stitching Template Support
VRUE360 supports stitching template files made with PTGui.
Support for various filters
You can apply brightness, contrast and grayscale filters to the matched image in real time.
Overlay
You can add 2D videos, images and texts to the broadcasting screen.
Nadir
You can easily put a Nadir(logo) image at the top or bottom of 360° images.